The Santé therapist team, in collaboration with the Auroville Health Center and Mattram, take an integral approach to the management of CoVid for those suffering from strong symptoms or its long term effects.
There are contributions from Ayurveda (Dr Be), Allopathy (Dr Gayatri & Brian), Homeopathy (Michael), Physiotherapy (Osnat) and Psychotherapy (Mattram)
Dear friends,
The Santé health practitioners have aimed to provide some information / recommendations / advice and tools regarding the preventions and management of CoVid from an integral health approach.
There are contributions from Ayurveda, Acupuncture, Allopathy, Homeopathy, NLP and Psychotherapy.
We hope you will find this helpful to dispel fear and maintain health.
"Remain quiet within, concentrated only on receiving strength and      health, confident that we are with you all the time, and 

trust…"      
Covid-19: FAQs For Auroville Residents
All important phone numbers and working hours are given at the end of this document
Q. I have Covid-19 like symptoms such as fever, cough, cold, body-ache, loss of smell, loss of taste.
Please call Santé Reception during working hours (see below for hours and numbers) and share your information with the receptionist. The Santé Receptionist will schedule a call back for you from the doctor on duty as soon as possible.
Due to the highly contagious nature of Covid-19 and limited medical staff, a doctor or nurse will probably not be able to visit you in person, and neither should you visit Santé.
Q. I am very sick with Covid-19 like high fever above 39.0 °C (or 102.2 °F), persistent cough, breathlessness , feeling very restless, tired/exhausted, low on energy.
Please call the Ambulance Dispatch. The ambulance duty person will evaluate your symptoms and organise a priority call back from a Doctor or if needed, and based on resources available, organise a priority visit to your location if stabilisation or admission is required. 
Q. I don't feel well at all.
Please call the Ambulance Dispatch. The ambulance duty person will evaluate your symptoms and organise a priority call back from a Doctor or if needed, and based on resources available, organise a priority visit to your location if stabilisation or admission is required.
Q. I am in quarantine/isolation and I need non-medical help at home.
Please call the Santé Covid-19 Coordination number. Please let the Coordinator know if you can't isolate at home.
For groceries – here are the details for the Basket service. Check out the guidelines for delivery link.
 Q. I tested positive. Or I had close contact with a person who has tested positive.
Please call the Santé Covid-19 Coordination number.
Please also let the Santé Covid-19 Coordinator know if you can't isolate at home or need help with delivering groceries, food or other essential items.
If you have tested positive, the Santé Covid-19 Coordinator will:
– Schedule a tele consultation with a doctor
– Schedule a call with a volunteer to trace any close contacts you may have had over the past 7 days
And provide you with:
A printed copy or email/WhatsApp the guidelines on isolation including dos and don'ts & contact numbers. These guidelines can be viewed (or downloaded) here – COVID-19: Home Isolation Guidelines 
A vitals monitoring kit that includes a Pulse Oximeter, Blood Pressure meter and thermometer along with a monitoring sheet.
Links to online material to learn how to self-monitor your vitals and other useful information on Covid-19
You will be requested to self-monitor your vitals and report them regularly to a volunteer who will tabulate them and escalate to a doctor if there is any cause for concern
Q. I want to get a RT-PCR test done.
Please see guidelines on testing here. 
Q. I want to get vaccinated.
Please see information on vaccination here. 
Contacts Directory:
Santé Auroville Institute for Integral Health Reception
Working Hours: 9:00 AM to 12:30 PM, 2:00 PM to 4:30 PM, 
Monday to Saturday, Tuesday Afternoon Closed.
Telephone No: 0413- 2622803
Auroville Health Centre
Working Hours: 9.00 AM- 4.30 PM, Mon to Sat
Telephone No: 0413-2622123
Santé Covid Coordination (Aurosugan)
Working Hours: 8.00 AM- 8:00 PM, Monday to Saturday
Outside these hours only for emergencies
Telephone Nos:
Mob: 80123 05151: 87786 14902
WhatsApp: 80123 05151
Auroville Ambulance Dispatch
Working Hours: 24 x 7
Telephone No: 9442224680
Notes:  

As per Government Rules, your information will be shared with the Block Medical Officer and the key health monitoring team.
Be well.
– Santé Covid Coordination and Auroville Ambulance team –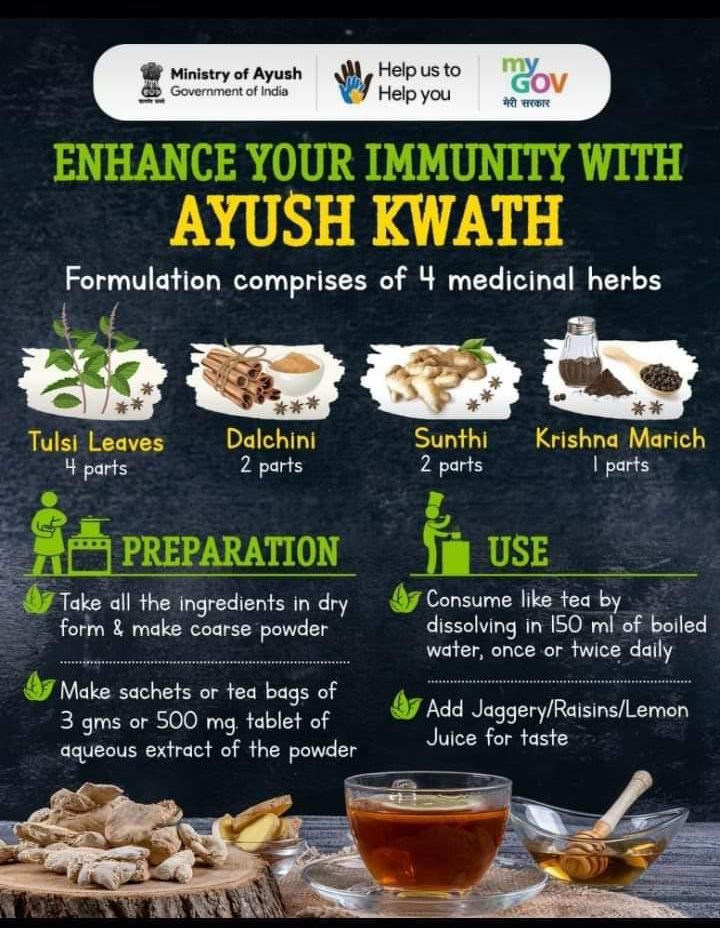 AYURVEDA
HOW TO BOOST THE IMMUNE SYSTEM
The recommendations from Ayurvedic scriptures to boost our immune system?
1 – Eat freshly prepared home-made foods with 
pulses or grains and vegetables along with spices (eg: ginger, turmeric, black pepper, cumin, coriander, cinnamon, basil, garlic etc).
– Avoid Kapha-producing foods like dairy products and sugary and sweet food.
2 – Drink hot water with ginger and lemon or herbal teas or green tea.
3 – Keep moving, do exercise, sweat it out even if it's just 15 minutes per day.
4 – Keep your senses lubricated: 
drink enough water; put 2 drops of sesame oil or Anu 
Tailam (ayurveda medicated oil) in each nostril in the morning and at bedtime; 
and massage the sole of feet and palms of hands with sesame oil if you can't do a full 
body oil massage.
5 – Gargle with hot water, salt and a pinch of turmeric.
6 – Cultivate happiness and positiveness by nourishing your senses and mind with 
uplifting news, sounds, images, contacts.
7 – Clean the atmosphere with sage fumigation or holy basil vapourisation.
8 – Wash your hands regularly, especially before preparing and eating food and 
before/after the use of the toilet.
9 – Do not eat left-overs, stale or junk food or do not eat out in uncleaned premises.
10 – Organic fruits or vegetables are nature's "Farm"acy, they might not look 
appetising and shiny but they are full of vitamins and minerals and their seeds are 
"mother seeds" (they reproduce fruits or vegetables when you plant them, unlike 
hybrid or modified seeds that are sterile).
11 – Burn incense or do aromatherapy with eucalyptus, holy basil, rosemary, sage, and 
sandalwood.
To see this information in Tamil, please open here.
Precautions to Protect Us All
Particularly, now that the number of cases in India has seen a dramatic increase once again, we must be vigilant.
– Always wear a mask or a face cover when you are outside and in public places, and definitely in places where 1-2m social distancing is not a possibility.
– Wash your hands often with soap and water (for at least 20 seconds) and/or use an alcohol based hand sanitizer, if you have touched surfaces that are touched by others.
– Avoid being in large gatherings or groups and maintain 1-2m social distancing if you are amongst people.
– Do not interact with persons with flu-like symptoms.
– Cover your nose and mouth if you have to sneeze or cough with the inside of your elbow.
– Avoid travel unless it is a medical urgency, including going to nearby Pondicherry. 

Stay Safe. Be Well.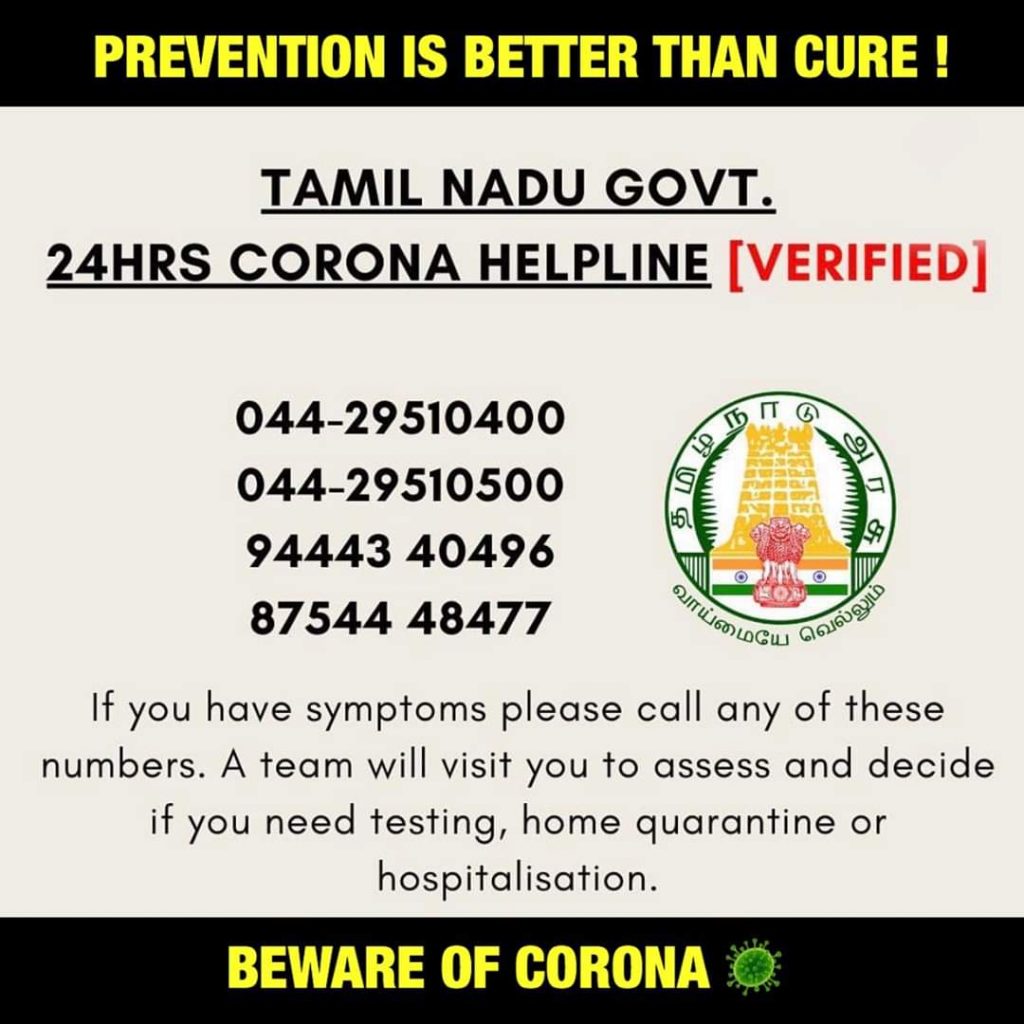 Guidelines for Home Quarantine of contacts of Suspects or Confirmed cases of COVID-19
Who is a contact of COVID-19 ?
Epidemiological link can be established within a 14-day period before the onset of illness in a case of COVID-19
1. Household contact

2. Direct physical contact with a suspect or confirmed COVID-19 case without any PPE
3. Stayed in a closed environment with a suspect or confirmed COVID-19 Case ( air travel, cinema theatre, shopping malls, classroom, etc).
Guidelines for Home Quarantine
 – 

Stay Indoors in well ventilated spaces and do not come outside the house at all in case of living in an apartment. If self isolating in a family, remain in a single room with an attached toilet. Do not leave the room for any reason during your quarantine period.
– If living in an individual (isolated) house, you can come out and walk around the house or on the terrace, but avoid venturing into areas that are frequented by others/neighbours.
– No touch/physical contact with anyone from the outside – including delivery people, any working staff or anyone at all, as well as other family members, if isolating in a family household.
– Take plenty of fluids, drink warm water and a healthy diet. Stay in a positive space through yoga, meditation, and simple exercises.
– When family/ friends/ volunteers come for delivery of essentials, they will drop the items at the entrance of your home, and you will pick it from there without making any contact.
– The house – toilet, bed linen, clothes, and frequently touched surfaces should be sanitised regularly.
– Do not dispose of your waste or give your clothes for cleaning during the isolation period.
– In case you are availing of a delivery lunch scheme while in quarantine, please give your tiffin to your friend/ family who will deliver the food regularly. 
Upon delivery, ask them to transfer the food without touching, into another pre-designated container for you and the delivery tiffin is to be cleaned daily by the friend/ family member only after that. 
– Monitor your health conditions regularly. A  monitoring sheet and medical equipment will be given for use for self-monitoring. A coordinator will call to check your vitals on a daily basis. This sheet is essential to share with the medical team. 
Duration of Home quarantine is for 14 days from the date of contact with a confirmed COVID-19 Case. 
In case of doubt or concerns, contact the Santé Coordination team – sante.coordination@auroville.org.in
Recipe for natural All-Purpose Cleaner as a possible homemade alternative to hand sanitisers
· 3/4 cup hydrogen peroxide.
· 1/2 cup distilled white vinegar.
· 1 teaspoon unscented liquid soap.
· 10 drops tea tree oil.
· 20 drops lavender essential oil.
· 2 cups water in spray bottle.
How to use a mask properly to protect yourself and others  
Before putting on a mask, clean hands with soap and water or alcohol-based hand rub. 

Cover mouth and nose with mask and make sure there are no gaps between your face and the mask.

Avoid touching the mask while using it; if you do, clean your hands with alcohol-based hand rub or soap and water.

Replace the mask with a new one as soon as it is damp and do not re-use single-use masks.

To remove the mask: remove it from behind (do not touch the front of mask); discard immediately in a closed bin; clean hands with alcohol-based hand rub or soap and water.  Treat used mask as sanitary waste.

Reusable cloth masks are also available in case of need.
Helpful contact numbers for Aurovilians during lockdown
AV Health Centre: (0413) 2622803
AV Health Services: (0413)4036954
Santé: (0413) 2622803
AV Ambulance:   (+91) 94422 24680
National Helpline: 011-23978046
National email advice email: ncov2019@gmail.com