Important Update:
Travel from the United Kingdom has been suspended from December 22, 2o20 till January 2021. This is subject to change as the situation evolves.
Upon arrival from all foreign countries, a 14-day quarantine is mandatory. This may involve institutional quarantine at the nearest facility and you may be offered options between paid and unpaid quarantine shelters. You will need to enquire about this before starting your travel as this information keeps changing and depends on the port of departure and arrival. 
Updated CoVid Bulletin – December, 22, 2020
Now that international travel is more open, most of the airlines/ arrival airports require a negative RT-PCR test for traveling outside the country from India and as a precautionary measure for several other reasons. The Covid Task force has compiled the latest information about the testing centres in Pondicherry re. contact number, distance, cost, waiting time for results, etc attached in the link for easy access to all.
The CoVid Task force will keep this list updated as and when they receive updates and new information. Anyone who wants to take a test for travel related purposes/ other precautionary purposes can contact the preferred place from the list to get themselves tested.
In case of development of any CoVid symptoms and/or being in contact with a CoVid positive patient, please contact the CoVid task force for the testing arrangements at Kiliyanur Primary Health Center or choose a preferred location from the list to get tested yourself.
The CoVid Task Force would appreciate the feedback about these testing centres from your personal experience if and when you go for testing. This might help us give better advice to people when they contact us for specific information.
Please remain cautious and vigilant by wearing masks, maintaining social distancing, following proper hand hygiene, and avoiding large gatherings. These steps will help us all to remain safe in the middle of this ongoing pandemic situation, especially during the festival season.

Link to the testing center information

Stay Healthy! Stay Safe!
Protocols for Testing
Testing vs. Screening: Screening is monitoring health with recording of symptoms and thermal scanning for body temperature, whereas testing is collection of Swab Samples and then sending those to a government authorized Covid-19 testing centre.
As per Indian Council for Medical Research (ICMR) guidelines, there are only specific cases where a testing will be done, such as for people traveling from abroad, from another state (especially from a hotspot state), for people who have come in contact with a Covid positive patient etc.
When testing is recommended by the Medical Officer, the CoVid Task Force will coordinate and assist you through the process.
Please inform the CoVid Task Force when planning your travel with your finalised travel details. In this way, they can help with any kind of assistance needed before/ during the travel or upon arrival in AV.
GUIDELINES FOR RETURNING TO AUROVILLE 
POST-LOCKDOWN 
As more and more activities post-lockdown are opening up around the country, and the restrictions are being removed, new cases are still on the rise and it is important to be cautious and safe.
With the opening up of trains and domestic Airline travels, some of our community members stranded in other parts of India and abroad have now started to return.
For those who are  planning to return to AV, or know of someone who is planning to come see the guidelines below.  They are largely from the TN government guidelines, and as advised by our Vanur Block Medical officer.
 
Who is returning?
– Aurovilians/ Newcomers stranded in different parts of India.
– Aurovilians/ Newcomers stranded abroad.  According to the latest GOI circular, repatriation from abroad is limited to Indian passport holders, OCI holders and Entry Visa holders.
What needs to be done when planning your return or if you know someone who is returning?
– Check the guidelines issued by the respective Airlines for Air travel before travelling and also check the specific guidelines for the airport you are arriving at.
– It may be necessary for you to have a valid TN e-pass if arriving from another state / country. These can be received online. Please note that this is mandatory and required by the TN govt. TN e-pass should be in the name of the passenger with details of the driver and taxi in which you will be travelling from the Airport/ other places.
– Be prepared for a possible Covid-19 test at the Airport/ Railway stations especially if you are arriving from hotspot states, e.g. Maharashtra, Karnataka, Gujurat, Rajasthan or Delhi.
Booking of a taxi to come to Auroville
The AV taxi services UTS, ITS, Sunrise, and Aurocabs are all functioning and we recommend you use one of these taxi services, as safety protocols have been discussed with them and we have had consultation meetings with the managers of all these services.
At the individual end, please ensure your safety precautions by having minimum physical contact with the vehicle, handling your own luggage, having the driver open the door, having your mask on all throughout the journey and maintaining proper hand sanitisation and respiratory hygiene.
Quarantine on Return
Depending on the symptoms, travel history, age etc. an individual could be asked for an institutional quarantine at the airport/ railway station, yet this is at the discretion of the Medical officer on duty.
Upon return from any state outside Tamil Nadu or Chennai a quarantine of 14 days is mandatory as per TN Govt. regulations. This is regardless of the test results if any during the travel. 
Please check for yourself and inform the Task Force about the possibility of a home quarantine when planning a return to AV.  Prior information of quarantine options will help organise the essentials, if required, during the quarantine. In case it is not possible to do a home quarantine, please contact the CoVid Task Force in advance to work out an alternative.
Post-lockdown Precautions
Particularly now that the number of cases in the State and in the country has seen a dramatic increase once again, we must be vigilant.
– If you have any Covid-19 related symptoms such as fever, dry cough, sore-throat, etc. stay at home, do not come into contact with other people, and seek medical advice/treatment.  Please call Santé for a telephone consultation on (0413) 2622803.  Our  doctor can guide you further.
If you have an employee or a co-worker with symptoms, please advise them to go back home immediately.
– Always wear a mask or a face cover when you are outside and in public places, definitely in places where 1-2m social distancing is not a possibility.
– Wash your hands often with soap and water (for at least 20 seconds) and/or use an alcohol based hand sanitizer, if you have touched surfaces that are touched by others.
– Avoid being in large gatherings or groups and maintain 1-2m social distancing if you are amongst people.
– Avoid travel unless it is a medical urgency, including going to nearby Pondicherry. 

Stay Safe. Be Well.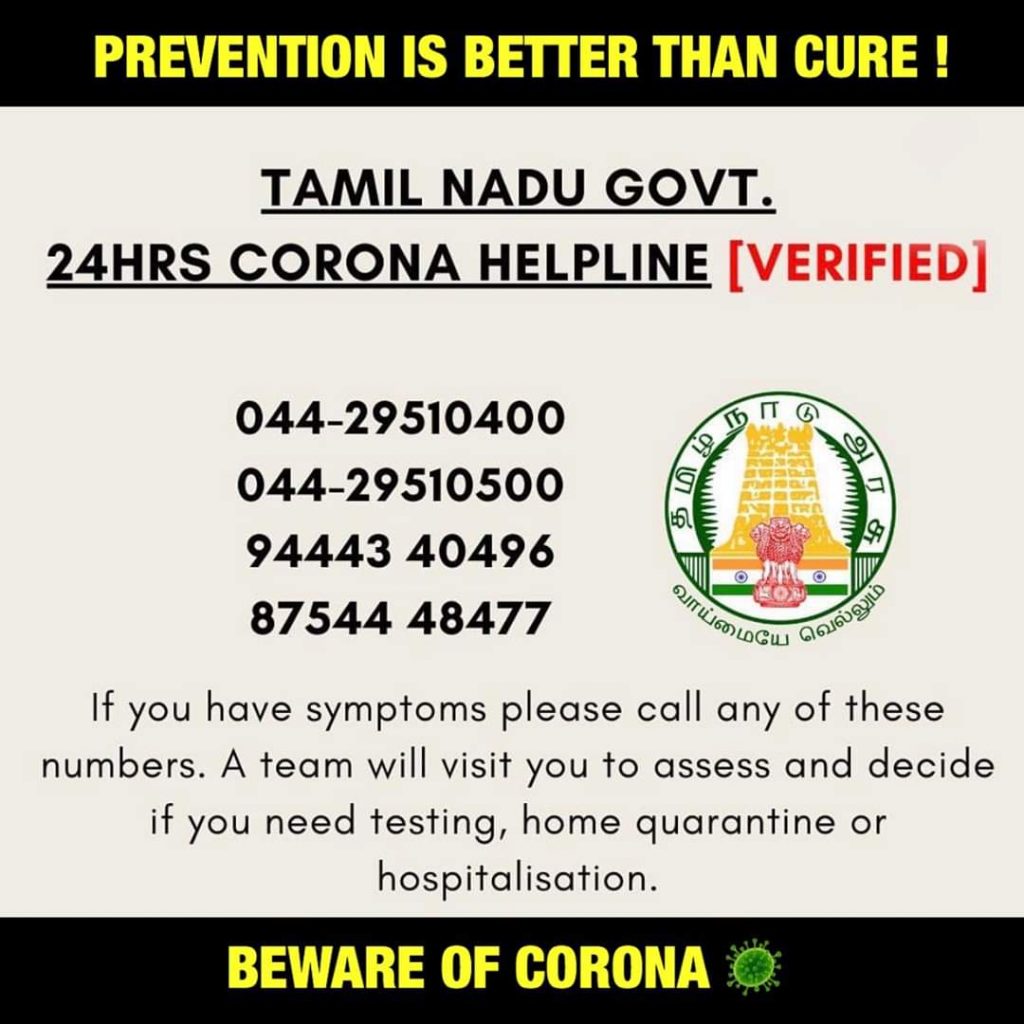 Guidelines for Home Quarantine of contacts
of Suspect or Confirmed case of COVID-19
Who is a contact of COVID-19 ?
Epidemiological link can be established within a 14-day period before the onset of illness in a case of COVID-19
1. Household contact

2. Direct physical contact with a suspect or confirmed COVID-19 case without any PPE
3. Stayed in a closed environment with a suspect or confirmed COVID-19 Case ( air travel, cinema theatre, shopping malls, classroom, etc).
Home Quarantine
1. Stay in a well-ventilated single room with an attached toilet.
2. Stay away from elderly, pregnant women, children and persons with comorbidities within the household.
3. Strictly not to attend any social or religious gathering
4. Avoid sharing household items with other people at household.
5. Wash hands thoroughly with soap and water or with alcohol based hand sanitizer.
6. Wear a surgical mask at all times. Change the mask every 8hours.
7. Inform the nearest health facility if symptoms (fever, cough, breathing difficulty) appear.
Family members of Home Quarantined Contacts should
1. Assign a single person without comorbidities, to take care of quarantined person.
2. Use disposable gloves while cleaning surfaces and linen inside the house.
3. Clean and disinfect the frequently touched surfaces using 1% sodium hypochlorite solution.
4. Clean the toilets surfaces daily with household bleach solution.
5. Clean the clothes and linen of home quarantined person using household detergent and dry in the sun.
6. Wash hands with soap and water after removing the gloves.
Duration of Home quarantine is for 14 days from the date of contact with a confirmed COVID-19 Case.
Recipe for natural All-Purpose Cleaner as a possible homemade alternative to hand sanitisers
· 3/4 cup hydrogen peroxide.
· 1/2 cup distilled white vinegar.
· 1 teaspoon unscented liquid soap.
· 10 drops tea tree oil.
· 20 drops lavender essential oil.
· 2 cups water in spray bottle.

AYURVEDA
HOW TO BOOST THE IMMUNE SYSTEM
The recommendations from Ayurvedic scriptures
to boost our immune system?
1- Eat freshly prepared home-made foods
With pulses or grains and vegetables along with spices (eg: ginger, turmeric, black
pepper, cumin, coriander, cinnamon, basil, garlic etc)
Avoid Kapha-producing foods like dairy products and sugar/sweet food
2- Drink hot water with ginger and lemon or herbal teas or green tea
3- Keep moving, do exercise, sweat it out even if it's just 15 minutes per day
4- Keep your senses lubricated: drink enough water; put 2 drops of sesame oil or Anu
Tailam (ayurvedic medicated oil) in each nostril in the morning and at bedtime;
massage the sole of feet and palms of hands with sesame oil if you can't do a fool
body oleation
5- Gargle with hot water, salt and a pinch of turmeric
6- Cultivate happiness and positiveness by nourishing your senses and mind with
uplifting news, sounds, images, contacts
7- Clean the atmosphere with sage fumigation or holy basil vaporization
8- Wash your hands regularly especially before preparing and eating food and
before/after the use of the toilet
9- Do not eat left-overs, stale or junk food or do not eat out in uncleaned premises
10- Organic fruits or vegetables are nature's "Farm"acy, they might not look
appetizing and shiny but they are full of vitamins and minerals and their seeds are
"mother seeds" (they reproduce fruits or vegetables when you plant them, unlike
hybrid or modified seeds that are sterile)
11- Burn incense or do aromatherapy with eucalyptus, holy basil, rosemary, sage,
sandalwood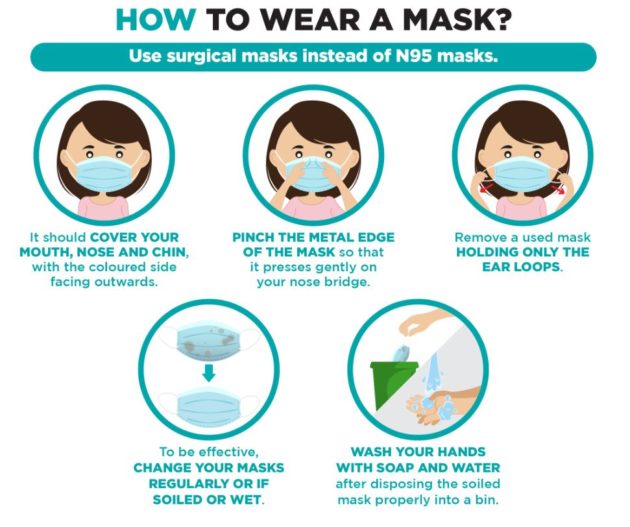 Joint advice from AV Health Centre Pharmacy and Santé 
How to use a mask properly to protect yourself and others  
Before putting on a mask, clean hands with soap and water or alcohol-based hand rub 

Cover mouth and nose with mask and make sure there are no gaps between your face and the mask.

Avoid touching the mask while using it; if you do, clean your hands with alcohol-based hand rub or soap and water.

Replace the mask with a new one as soon as it is damp and do not re-use single-use masks.

To remove the mask: remove it from behind (do not touch the front of mask); discard immediately in a closed bin; clean hands with alcohol-based hand rub or soap and water.  Treat used mask as sanitary waste.

Reusable cloth masks are also available in case of need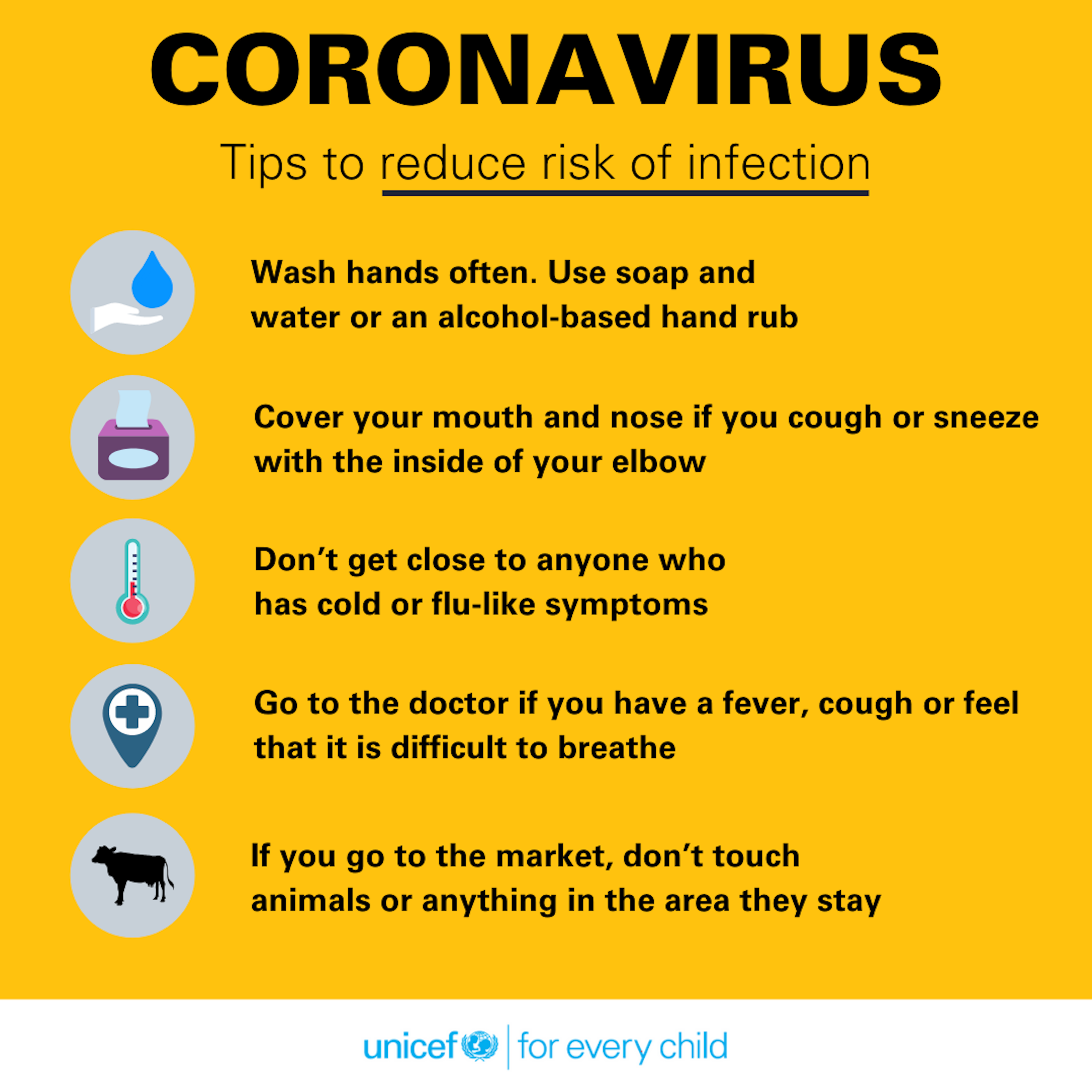 DOs and DONT's to protect yourself,
your loved ones and each other
DO
✔
wash your hands with soap and water often – do this for at least 20 seconds
✔
always wash your hands when you get home or into work
✔
use hand sanitiser gel if soap and water are not available
✔
cover your mouth and nose with a tissue or your sleeve (not your hands) when you cough or sneeze
✔
put used tissues in a closed bin straight away and wash your hands afterwards. Treat the disposed tissues as sanitary waste.
✔
try to avoid close contact with people who are unwell

DO NOT
χ
touch your eyes, nose or mouth with your hands as much as possible
Helpful contact numbers for Aurovilians during lockdown
AV Health Centre: (0413) 2622803
AV Health Services: (0413)4036954
Santé: (0413) 2622803
AV Ambulance:   (+91) 94422 24680
National Helpline: 011-23978046
National email advice email: ncov2019@gmail.com