Tamil Nadu Curfew Restrictions from
April 20th 2020 – May 3rd 2020
As per the press release from the Tamil Nadu Chief Minister on 20th, April, 2020, the lockdown in Tamil Nadu will continue to be in place until May 3rd with no relaxations and no exemptions beyond what had already been defined in the March 23rd notice.  Pondicherry has also stated that interstate travel will remain restricted so individuals should not be going to Pondy unless it is for an essential activity that has been cleared by the police through the Auroville Working Committee.
This means that at least until the 3rd of May, we must continue as we have been functioning since the lockdown started, with no additional activities or works being restarted, and maintaining restricted movement, going out only for essential needs. This is in spite of having no confirmed cases in Auroville or its neighboring villages.
Patience, goodwill, learning and surrender is essential in these uncertain days. 
And thank you to all to the health care workers, working groups,  community volunteers and workers, who continue to support our Auroville residents in these difficult times.  
We are never alone and that is a blessing of love.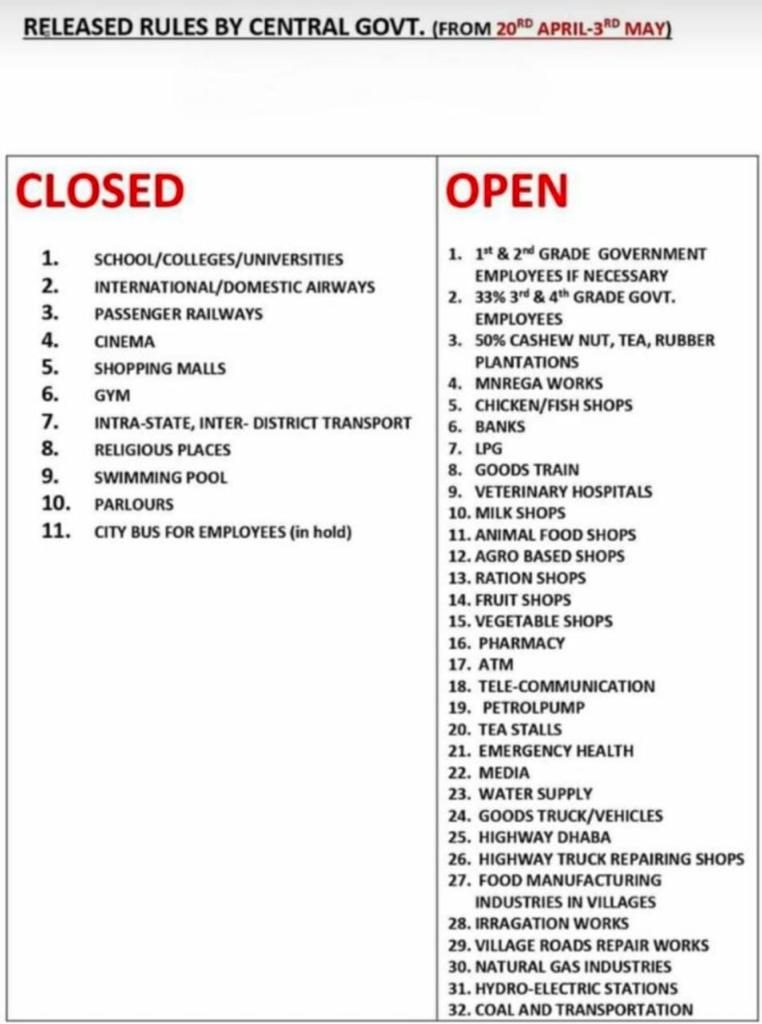 If you have a recent travel history or have symptoms, please call Santé for a telephone consultation on (0413) 2622803. after which a doctor can guide you further.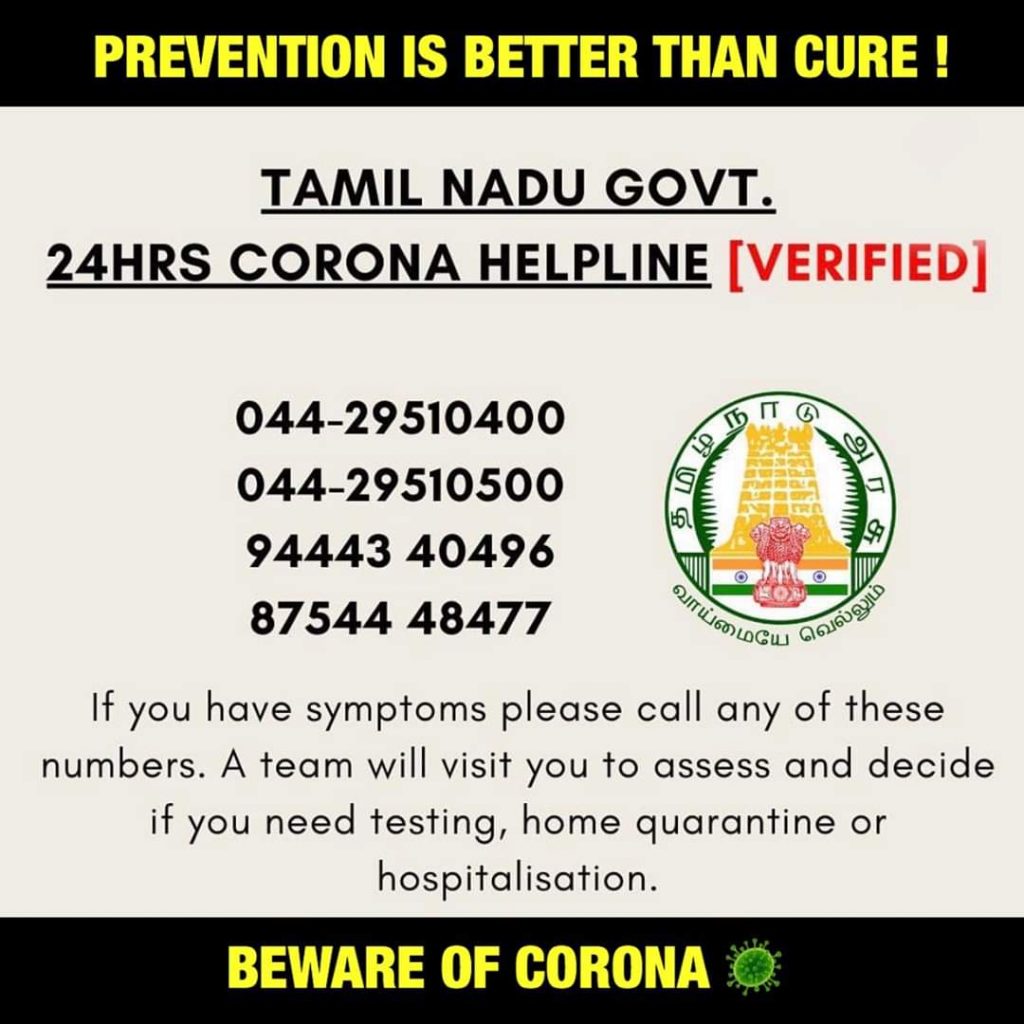 Guidelines for Home Quarantine of contacts
of Suspect or Confirmed case of COVID-19
Who is a contact of COVID-19 ?
Epidemiological link can be established within a 14-day period before the onset of illness in a case of COVID-19
1. Household contact

2. Direct physical contact with a suspect or confirmed COVID-19 case without any PPE
3. Stayed in a closed environment with a suspect or confirmed COVID-19 Case ( air travel, cinema theatre, shopping malls, classroom, etc).
Home Quarantine
1. Stay in a well-ventilated single room with an attached toilet.
2. Stay away from elderly, pregnant women, children and persons with comorbidities within the household.
3. Strictly not to attend any social or religious gathering
4. Avoid sharing household items with other people at household.
5. Wash hands thoroughly with soap and water or with alcohol based hand sanitizer.
6. Wear a surgical mask at all times. Change the mask every 8hours.
7. Inform the nearest health facility if symptoms (fever, cough, breathing difficulty) appear.
Family members of Home Quarantined Contacts should
1. Assign a single person without comorbidities, to take care of quarantined person.
2. Use disposable gloves while cleaning surfaces and linen inside the house.
3. Clean and disinfect the frequently touched surfaces using 1% sodium hypochlorite solution.
4. Clean the toilets surfaces daily with household bleach solution.
5. Clean the clothes and linen of home quarantined person using household detergent and dry in the sun.
6. Wash hands with soap and water after removing the gloves.
Duration of Home quarantine is for 14 days from the date of contact with a confirmed COVID-19 Case.
Santé Updates  – April 2020
Dear Friends,
In light of the Coronavirus situation, Santé will only be receiving acute cases and emergencies for Aurovilians, volunteers and registered guests (with an Aurocard).  No cash transactions will be taken.
All therapies will be suspended till a later date.  We apologise for any inconvenience caused.
Our doctors and nurses are available as usual.  Individual therapists may contact their patients to arrange sessions in alternate spaces.
Midwifery services will be home-based until further notice.  Contact Paula via email (paulamurphy@auroville.org.in) or Whatsapp her on (+91) 7598611950.
If you feel unwell, telephone consultations with a doctor will be available during working hours . Call Santé on (0413) 2622803.
We ask for your patience and your support in these interesting, and somewhat precarious times.
Government rules and guidelines are changing on a daily basis and we are doing our best to implement them. We will continue to update you regularly.
Be well! Keep joy and calm in your heart. ☺
Recipe for natural All-Purpose Cleaner as a possible homemade alternative to hand sanitisers
· 3/4 cup hydrogen peroxide.
· 1/2 cup distilled white vinegar.
· 1 teaspoon unscented liquid soap.
· 10 drops tea tree oil.
· 20 drops lavender essential oil.
· 2 cups water in spray bottle.

AYURVEDA
HOW TO BOOST THE IMMUNE SYSTEM
The recommendations from Ayurvedic scriptures
to boost our immune system?
1- Eat freshly prepared home-made foods
With pulses or grains and vegetables along with spices (eg: ginger, turmeric, black
pepper, cumin, coriander, cinnamon, basil, garlic etc)
Avoid Kapha-producing foods like dairy products and sugar/sweet food
2- Drink hot water with ginger and lemon or herbal teas or green tea
3- Keep moving, do exercise, sweat it out even if it's just 15 minutes per day
4- Keep your senses lubricated: drink enough water; put 2 drops of sesame oil or Anu
Tailam (ayurvedic medicated oil) in each nostril in the morning and at bedtime;
massage the sole of feet and palms of hands with sesame oil if you can't do a fool
body oleation
5- Gargle with hot water, salt and a pinch of turmeric
6- Cultivate happiness and positiveness by nourishing your senses and mind with
uplifting news, sounds, images, contacts
7- Clean the atmosphere with sage fumigation or holy basil vaporization
8- Wash your hands regularly especially before preparing and eating food and
before/after the use of the toilet
9- Do not eat left-overs, stale or junk food or do not eat out in uncleaned premises
10- Organic fruits or vegetables are nature's "Farm"acy, they might not look
appetizing and shiny but they are full of vitamins and minerals and their seeds are
"mother seeds" (they reproduce fruits or vegetables when you plant them, unlike
hybrid or modified seeds that are sterile)
11- Burn incense or do aromatherapy with eucalyptus, holy basil, rosemary, sage,
sandalwood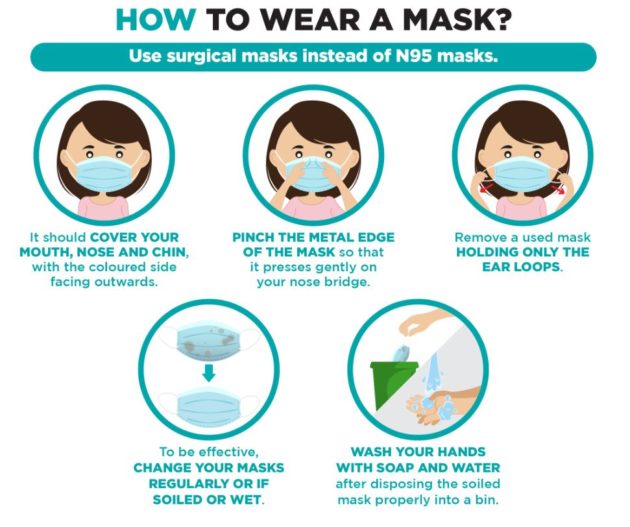 Joint advice from AV Health Centre Pharmacy and Santé 
How to use a mask properly to protect yourself and others  
Before putting on a mask, clean hands with soap and water or alcohol-based hand rub 

Cover mouth and nose with mask and make sure there are no gaps between your face and the mask.

Avoid touching the mask while using it; if you do, clean your hands with alcohol-based hand rub or soap and water.

Replace the mask with a new one as soon as it is damp and do not re-use single-use masks.

To remove the mask: remove it from behind (do not touch the front of mask); discard immediately in a closed bin; clean hands with alcohol-based hand rub or soap and water.  Treat used mask as sanitary waste.

Reusable cloth masks are also available in case of need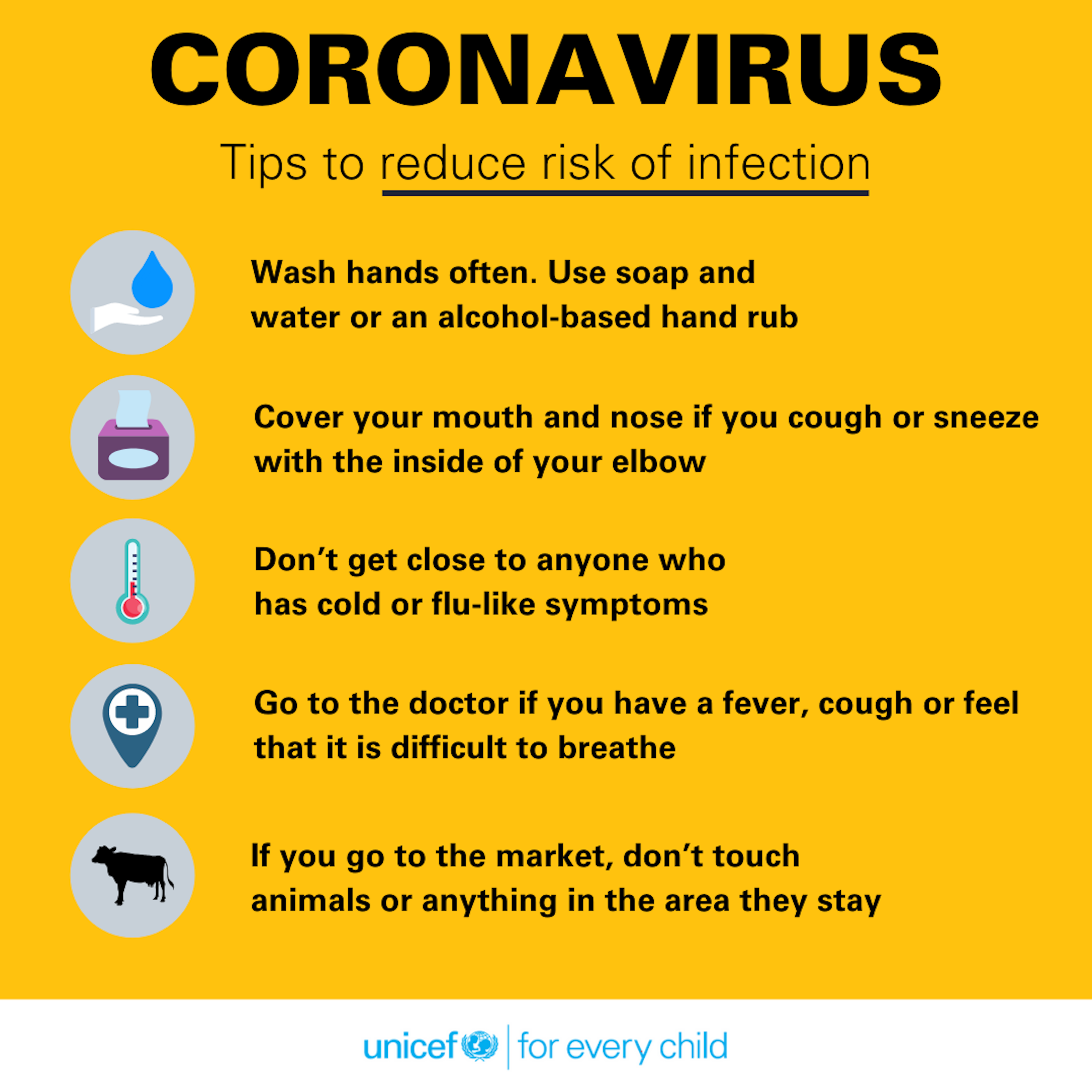 DOs and DONT's to protect yourself,
your loved ones and each other
DO
✔
wash your hands with soap and water often – do this for at least 20 seconds
✔
always wash your hands when you get home or into work
✔
use hand sanitiser gel if soap and water are not available
✔
cover your mouth and nose with a tissue or your sleeve (not your hands) when you cough or sneeze
✔
put used tissues in a closed bin straight away and wash your hands afterwards. Treat the disposed tissues as sanitary waste.
✔
try to avoid close contact with people who are unwell

DO NOT
χ
touch your eyes, nose or mouth with your hands as much as possible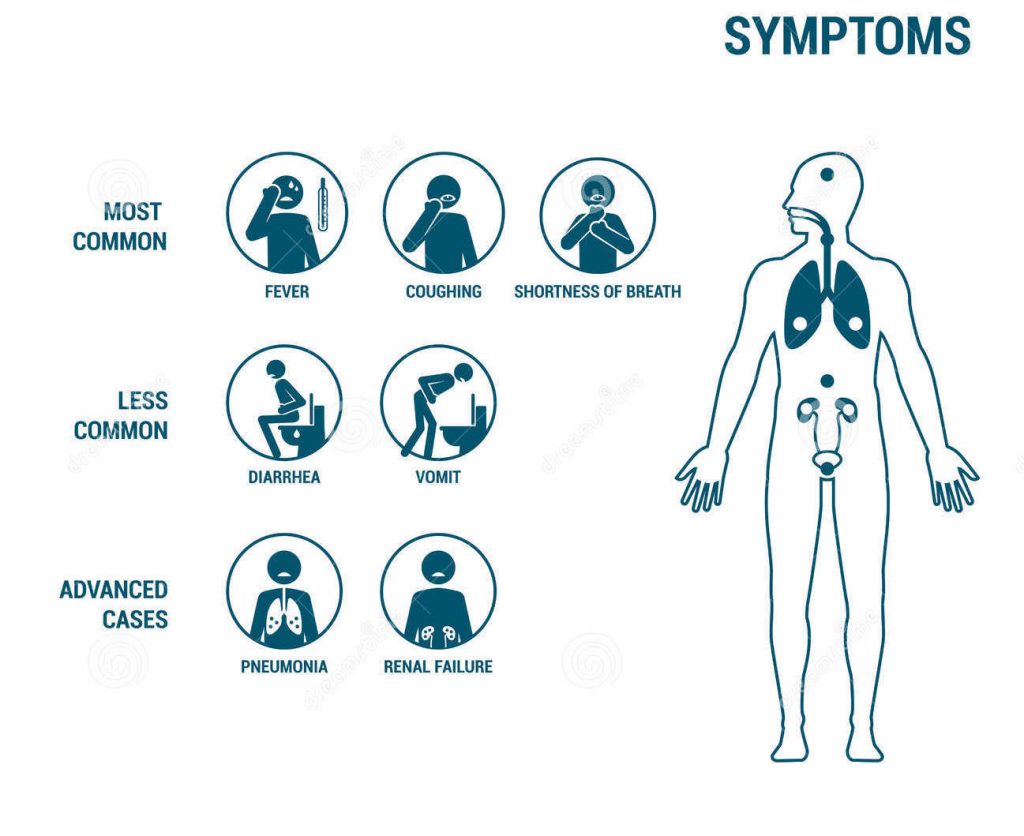 Advice for Aurovillians
regarding Corona Virus times
Introduction
This is a response to the possibility that the corona virus may infect some Aurovillians especially if they come from countries where the disease is established.  While the risk is not that great given that the Indian Government has taken preemptive steps to limit all international travel, we are obliged to coordinate a plan within the Auroville community.  The 3 health providers (The Health Centre, Santé and the AVHS), the AV ambulance team and AV security services have agreed to the following plan:
Action Points
1. If you have cough, fever, headache, body ache, with vomiting and diarrhoea and breathing difficulty DO NOT visit the Health Centre, Santé, the pharmacy or any alternative therapists
2. If you come you will be requested to go home directly and phone your GP.
3. During office hours ring your usual health provider and ask the doctor to return the call as soon as possible. In the evenings, ring the AV Ambulance Service who will inform Dr. Amarnath to phone the patient to assess them. 
Alternatively ring the National Advice Helpline 011-23978046
4. Please stay indoors till you have been contacted by your GP.
5. The doctor or advisor will make an assessment over the phone and will advise one of 3 options:
1. Self-quarantine for 14 days
2. Visit PIMS hospital and have the test carried out to see if you have coronavirus. The AV Ambulance can guide you in this regard. The test result takes 24-48 hours so be prepared to stay in the quarantine ward until then.
3. Make an appointment with your usual doctor via the phone.
6. Any deterioration in health especially breathing difficulties will require an immediate admission to hospital in Pondicherry.  The patient should ring the AV ambulance service on the number below.
Useful Contact Numbers:
AV Health Centre: (0413) 2622803
AV Health Services: (0413)4036954
Santé: (0413) 2622803
AV Ambulance:   (+91) 94422 24680
National Helpline: 011-23978046
National email advice email: ncov2019@gmail.com