What this project offers?
Santé envisions the creation of an integral health institute that will ideally treat and heal individuals using effective, low cost and resource efficient approaches based on a synthesis of western medical knowledge and traditional healing systems. Treatments may often be supported using modern discoveries in energetic medicine, sound therapy and environmental science. Preventative approaches would continue to remain a primary focus.
– Health care providers and team members, who are selected not only based on their qualifications, but also their commitment to communicate, collaborate and learn from each other.
– Continued research in innovative, cost-effective and gentle therapies and a commitment to education of health practitioners and individuals in integral wellness.
– A venue and forum that brings together health professionals from all disciplines and all countries so that better approaches to health and healing can be discovered and shared.  This is in line with Auroville's vision to be a town for universal harmony and peace and "the city where one heals."
– A primary focus on ecology and environment through the use of green building technologies, alternative healing techniques that require less resources than many of the current techniques of western medicine, and the promotion of healthy lifestyles that counter the modern consumptive pattern.
We envisage the Institute of Integral Health to expand and grow in line with the growth of the Auroville population (estimated up to 25,000).  In order to serve this growing population, we anticipate that the Institute will eventually need almost 3,500 sq. m. of covered space, and include 40 inpatient beds, 20 consultation rooms, full- fledged diagnostics, imaging and scanning facilities, a pharmacy, surgery, birthing centre and other health services including group therapy rooms and conference facilities.
Santé Phase I – Completed August 2015
Phase 1 was intended as an outpatient clinic with a minor operation theatre, emergency room, 6 consultation and treatment rooms, 1 in-patient room, a lab and a pharmacy. This stage included only those requirements for which construction could be completed quickly so that essential healthcare operations for the existent Auroville residents could shift from it's squashed, temporary clinic to a permanent home, with enough space to offer a peaceful and private environment for quality health services.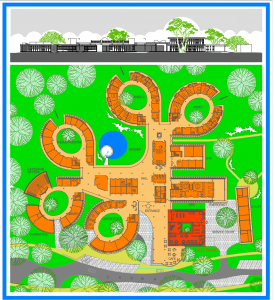 The estimated built-up area of Phase I is 640 sq. m. with an estimated cost of Rs.115 lakhs (230,000 USD). Additionally, infrastructure costs were Rs. 11 lakhs (22,000 USD), and equipment cost Rs. 35 lakhs (70,000 USD) with a grand total cost of Rs. 175 lakhs (318,000 USD).Phase I construction started in 2011 and was completed in August, 2015, after a long but determined struggle to fund raise the needed resources to complete the initial project.The new Santé building was inaugurated on the auspicious August, 15th, 2015 and began functioning as Auroville's integral health clinic."The body is the bridge", a theme-based performance exploring horizontal and vertical space and a meditation with music was held on a relaxed Saturday afternoon on the Santé rooftop to celebrate the inauguration.
Phase II of construction will begin shortly with subsequent stages to follow as the community's needs evolve and Santé grows in its identity as an Institute for Integral Health
Future Roadmap - Phase II
Phase II of construction is intended for an education facility that will allow workshops, trainings and to host future collaborations with others interested in integral health. There is a call to increase our inpatient facilities and to enhance our services as Santé grows. It is hoped that these developments will begin shortly, and fund raising through various sources in India and abroad are underway. 
But to make our dreams a reality, we got a long way to go.

 If you would like to make a donation towards this development, please contact us

directly or contribute below.