I – INTEGRAL PATIENT CARE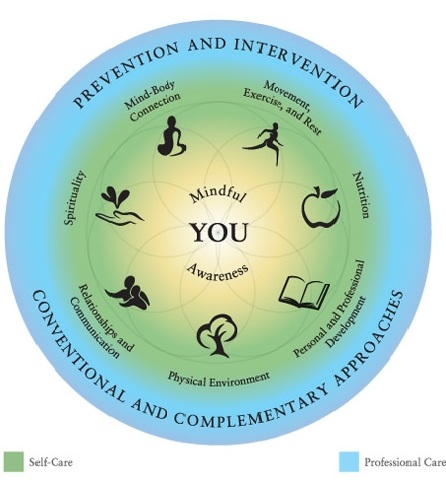 There are several features that are inherent to the day-to-day practice of Integral Patient Care.  Some of the primary ones include:
– A multidisciplinary team

, willing to collaborate and cooperate:
– A facility

that allows for the comprehensive practice and collaboration of several different therapies.
– Integrative patient care

based upon all systems of medicine working in a complementary relationship with one another. In addition to everyday clinical practice, tools to support the processes of integration include health navigators, shared medical records, patient care conferences and patient education. .
– Home health care services

for people who are too ill to come to the clinic.
– Referral networks and relationships

with qualified practitioners and other facilities near and far to meet health care needs when we may be unable to do so.
II – RESEARCH AND EDUCATION
Research and education go hand in hand.  Auroville is intended as a place of unending educ

ation, and the Auroville Institute of Integral Health has similar visions to share itself with the world, in the form of new research and learning.  From an integrative medical perspective, research studies can be divided into various categories.  These include:

 

– Studies in the nature of illness and the scientific method itself

:  This is a core investigation into how we view illness, and therefore how we address it, and how studies are conducted.  Is disease always a negative condition to get rid off or can it be looked at and managed from other perspectives?  Is it even possible to get answers using the current reductionist scientific method to analyse a non-reductionist approach as in integrative medicine?
– Comparison based studies

: Studying the effectiveness of integrative medicine in comparison to the standard allopathic model in the treatment of specific conditions; for example, approaches to pain management in chronic back pain. 
– Modality specific studies

: Research carried out to determine the effectiveness of a specific health modality in treating a particular condition, for example the treatment and management of  Diabetes Mellitus II with a vegetarian, protein-based, whole food diet and other basic lifestyle changes.
– The Auroville Integral Health Institute's internal research

: This involves taking a regular look at how the Institute itself is functioning, including collecting, reviewing and incorporating suggestions and feedback from the community as well as from Santé team members.
The integrative model of medicine holds that health is a combination of mental, spiritual, and physical wellbeing. That being the case, for it to be practiced, the practitioners as well as the public need to be involved in an evolving process of education and research. Auroville has a wide selection of sources that can be utilised to fill this requirement; there are numerous talented health practitioners, many competent exercise instructors, classes on nutrition and wellbeing, spiritual and psychological counsellors and a wide range of relevant workshops to draw upon.  Some categories of education include:
     · Patient health education:  Information that addresses the triad of physical, psychological (emotional and mental), and spiritual wellbeing.
     · Team member education: Members of an integrative medicine team need to regularly expand their knowledge of other disciplines to better incorporate them as part of an integrative treatment plan, including appropriate patient referrals, and patient lifestyle recommendations.
     · Integrative medicine courses for other health care providers: Courses in the integral paradigm of preventative and curative medicine for other health care providers, and training sessions to share knowledge and develop the network of professional relationships.
III – PUBLIC HEALTH CARE
Public health care is described as the hygienic and epidemiological supervision for disease prevention affected by environmental, social, and nutritio

nal risk factors.  As a primary pillar of the integrative model of medicine, systems need to be in place for the community to deal with the spread of infections and poisons through various shared resources such as water, air, soil and food, and also to effectively manage health during natural disasters.  Key factors to consider are:
– Identification:

Keeping up with and identifying risk factors, and creating standards and regulations to deal with their possible consequences.
– Monitoring and control

in case of outbreak or to limit the spread of infection
– Effective public notification systems
– Emergency Response:

Trained emergency response teams that are able to handle evacuations in cases of high health hazards or environmental upheaval
– Education:

Up-to-date instruction and training of the staff, general public & volunteers