Auroville's Institute for Integral Health is managed with the help of an amazing team of support staff from the receptionists and nurses to our invaluable Ambulance team and cleaning staff.
Ambulance Driver & Advanced Paramedic

Alok Mallick
Alok completed his schooling at Sri Aurobindo International Centre of Education, Pondicherry in 1987. During his school days, he was a volunteer in the Sri Aurobindo Ashram Ambulance and also closely associated with Auroville.
Subsequesntly, Alok worked in the Andaman and Nicobar Islands for several years with environment and wildlife studies, and was a founder member of the Andaman Nicobar Environmental Team. While in the Andaman Islands, he received a training in Medical First Aid and CPR (American Heart Association) as part of his course in rescue diving.
In 1999, he moved to the United States, where he studied Mechanical Engineering at Virginia Tech, Blacksburg. In 2002, while at the University, Alok was selected by the Smithsonian Institute for a series of summer expeditions to the Arctic to study climate change, where his task was to lead the diving operations for this study. For this study, he received his formal training as a Paramedic and certified Scientific Diver by NOAA (National Oceanic and Atmospheric Administration), U.S.A.
In 2005, Alok came back and joined Auroville and took up research and development work at CSR (Centre for Scientific Research). In 2012, when the Auroville Ambulance was procured, there was a need for volunteers to operate it. He volunteered to drive and take care of the technical maintenance of the vehicle with immediate effect.
As of now, Alok is our Auroville Ambulance driver and a qualified Advanced Paramedic and an AHA (American Heart Association) instructor. He is involved in the training of the Auroville Safety and Security team to respond to first aid emergencies, and he is an indispensable element in the Auroville Ambulance Team.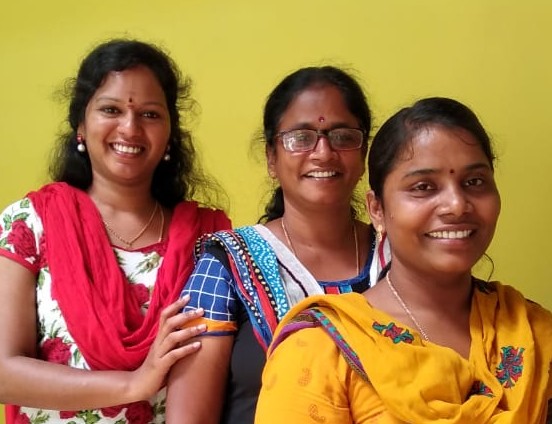 Archana Kanniyappan
Archana joined the AV health clinic team in 2009 when it was located in Kailash Clinic, and was part of the Auroville Ambulance Service Team. 
She is born and brought up in Auroville and did her schooling in Auroville and her 12th standard in Sri Aravindar Higher Secondary School in  Pondicherry, and subsequently she completed her 4 year Bachelor of Science in Nursing course in SRM college of Nursing in Chennai. 
Archana writes, " I am very happy to be part of this team and see the growth and development of this beautiful family. I look forward to improving my nursing skills and developing in the field."
Languages: Tamil & English
Thilagam Vengadesan
Thilagam joined Auroville Health Centre in 1992, where she worked as a nurse for 14 years, before she moved to a nursing position in Kailash Clinic.  She lives with her family in Auroville and continues her service as a nurse in the Auroville Institute for Integral Health. 
Thilagam  started in Auroville as a certified Auxiliary Nurse Midwife, but qualified herself over the years, working with various Auroville medical practitioners, in different treatment modalities. 
She currently helps as a nurse at the Health Institute and supports our resident midwife in the various responsibilities involved with women's care and childbirth. 
Languages: Tamil & English
Ezhilarasi Muthamizh
Ezhilarasi joined the Santé team as a nurse in May 2017.
With over 12 years of experience in nursing, Ezhil has worked previously in several private hospitals including Apollo Hospital in Chennai, Pondicherry Institute of Medical Science and Be Well Hospital in Pondicherry.
Ezhil describes working in Santé as a discovery in what it means to be part of a team, an experience she both values and enjoys. She  greatly appreciates working with therapists and doctors offering treatments beyond the traditional scope of general medicine.  
Ezhil hopes to continue to develop her skills through further training.
Languages: Tamil & English
Our Reception and Admin Team
Li Mei Young 
Li Mei came to Auroville in 1976 and she has been here ever since.  She was born and grew up in Indonesia, spent 6 years studying in Holland, and then found Auroville as her lifetime project.
Li Mei participated in many areas of the Auroville community as it developed; working in Matrimandir, the Auroville News office, in the Pour Tous purchasing center, as an art teacher in the primary school, and for 15 years in the office of Future School, Auroville's main secondary school.  In the early days, she learnt and helped teach Bharat Natyam dance and was active in organizing performances with the Auroville children.
Li Mei, along with others, began the community of Aurodam in 1977, where she raised her family, and was very active in reforesting of the area. Her passion, or rather her therapy, is art, and she is especially good at painting and making paper flowers.
Li Mei joined Santé as a reception team member, when it began in 2016.
Languages:  Dutch, English & Indonesian
Agila Desingu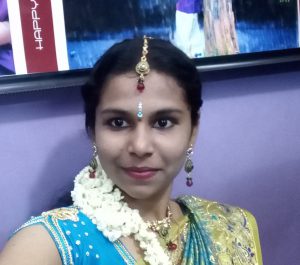 Agila was born in a village in the green belt within the Auroville bioregion, and was educated in an Auroville school.
Agila married recently and began to live in Auroville with her husband, and she has recently joined Auroville as a new resident.  
It is wonderful to have her discover the wider Auroville community through her work as a reception team member in Santé.  She enjoys being exposed to so many people of diverse backgrounds, nationalities and dispositions that live in Auroville.  


Agila says she is happy to work in Santé as a receptionist because she feels her valuable service to her community  allows her to cultivate her inner being.  She says that discovering work as an active team player is an ongoing adventure in adjustments. 
 Languages: Tamil & English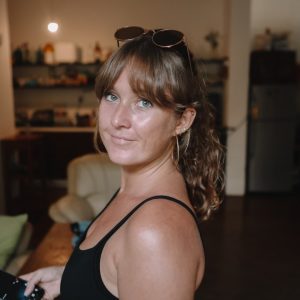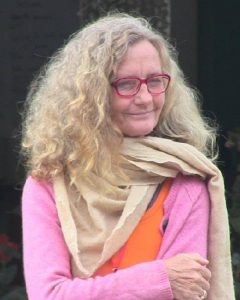 Dasha Iatsenko
Dasha came to Auroville at the age of 2 years old and she has been here ever since. She completed her primary and secondary schooling in Auroville and went on to attend a 3 year apprenticeship in tailoring and garment design.
Dasha has always been interested in psychology, philosophy, energy work and other healing methods of bettering one's self. She is qualified in basic Reiki and recently completed a 200 hour teacher training course in Hatha Yoga which she applies to her daily life.
Dasha enjoys several hobbies including painting, photography and video/photo editing and she has produced wonderful works of art in many different mediums.
She says she was drawn to work in Santé as she was curious, as well as interested, in holistic therapies and their ability to manage patient health and wellbeing.
Dasha has become an integral part of the reception team and her capabilities and good intentions have supported the team when we really needed it.
Languages : English and French (semi fluently)
Helena Becker
Helena came to Auroville in 1994, called by The Dream to manifest a new Way.  Despite the gap between the ideal and the ground reality, she does not lose hope and continues to search for ways to bridge the divide. Recently, Helena came to the realization that her continued inner work towards the larger vision are positively impacting her life and and her work.
After joining Kailash clinic in 2013 at the reception, Helena moved to Santé with the existing team. She enjoys reception work as it is a central hub that binds all departments together  like "The Heart".  Here, there is direct community exposure and daily challenges to improve oneself and the service offered to the community.  
Measuring and documenting flow is Helena's passion, numbers are like dear friends so it is natural that Santé's finances are managed through her hands. She does not consider herself an accountant but more a "flow master" and appreciates the honor to touch a material part of  the universal energy  🙂 
Languages : English, Russian, German
Santé's Medical Superintendent
Dr. Sumeet Kumar
Sumeet is our Medical Superintendent and he is an executive in the Auroville Institute for Integral Health.  He has been involved in healthcare in Auroville since 1995 when he joined the community, and is instrumental in guiding the team as we explore and develop integrated health care together.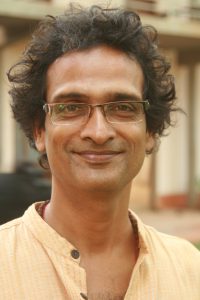 Keeping a health institute clean and cared for requires diligence and a never-ending attention to details.  And that is why we are so grateful for this invaluable service offered us by our wonderful cleaning team, who also provide our teatime treats and make sure we are all well looked after.